CHOCOLATE FONDUE
The Fondue Bar experience refers to a shared communal dish prepared at the table over a small burner. Fondue comes from the French, for the term "to melt", and refers to the fact that the contents of the pot (in our case, delectable chocolate) are kept in a liquid state so that you can dip an assortment of fruits, cakes or marshmallows into it.
Choose your Mink fondue from milk, dark or dairy-free dark chocolate. 
 
Buy a set of fondue pots and a jar of fresh chocolate ganache at the Café and make fondue at home!
Broaden your fondue horizons with our signature mini hibachi that we will bring to your table so you can roast your own marshmallows and make the classic Canadian campfire experience – S'mores!.
Fondue and S'mores can be enjoyed up to one hour before closing time
"I like my chocolate relaxed and groovy" – Anonymous –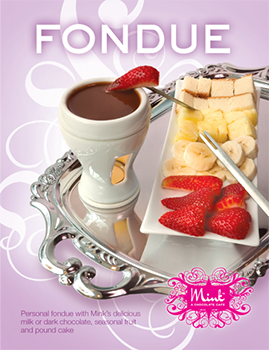 COFFEE & HOT CHOCOLATE
"The divine drink, which builds up resistance and fights fatigue. A cup of this precious drink permits a man to walk for a whole day without food." – Emperor Montezuma of the Aztecs
Mink baristas serve hot and cold chocolate beverages year round. We use pure, fresh chocolate ganache for all our hot and cold chocolate drinks. No powders, no water, nothing reconstituted or rehydrated. The new standard by which all other chocolate drinks will be compared to. And fret not, if you are dairy-free and plant based, we have you covered too.
And if you're freaky about your chocolate beverages like we are, Mink's Drinking Chocolate is for you. Thick, rich, ultra- luxurious, it elevates hot chocolate to a whole new level.
Craving a Mink style hot chocolate beverage at home? You can now buy jars of pure, fresh chocolate ganache from the Café. Follow the instructions, and voila!
On the coffee side of our business, we feature a selection of organic, fair trade, and single origin plantation coffees for both our espresso based drinks, and our brewed-on-demand Clover drip coffee.
"Nine out of every ten persons say they love chocolate. The tenth lies" – Anthelme Brillat-Savarin –